Scientific research and information on diabetes, risks, complications and more. Information comes from a variety of sources including peer reviewed research that has been translated for the layman.
Daniel Henryk Rasolt writes articles that cover diabetes, health, self management, and complementary and alternative medicine. He has written for Defeat Diabetes® News for over seven years.
Many members of his immediate family have diabetes so he has personal experience with the disease. Because of this family history, Henryk is also aware of his increased risk of becoming diabetic, so he tries to follow a "healthier" lifestyle that includes fresh fruits and vegetables, whole grains and plenty of exercise.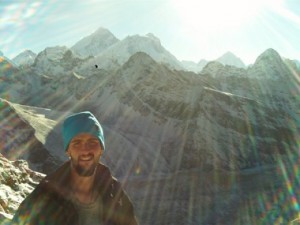 At the summit of Gokyo Ri in the Nepalese Himalayas, with Mt. Everest in the background.
Henryk is a graduate of Cornell University, where he majored in physics, with a concentration in astrophysics. His physics research has been published, and he uses his analytic skills as a health, medical and science writer. He writes about science for the layman.
His interests outside of science include travel to over 75 countries, many by motorcycle, an extensive interest and knowledge of wine, has climbed several mountains above 20,000 feet, is an advanced and specialized scuba diver; and believes days are not to be wasted.
Henryk was recently exploring the mountains, jungles, oceans, and people of South America, hoping that maybe a shaman contains the secret cure for diabetes (no luck). He is now back in Nepal on another trek.
Update: Henryk is in the South Seas taking courses to become a (SCUBA) Dive Master.
See more health articles by Daniel Henryk Rasolt in Research Interpreted.