When:
2017-07-08T00:00:00-04:00
2017-07-09T00:00:00-04:00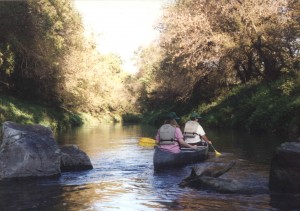 Some of us aren't comfortable swimming or surfing but you can still stay cool have fun ON the water too!
There are plenty of waterways that can be navigated in a human propelled water craft that will still keep you cool. We're talking about paddling or rowing in a kayak, canoe or rowboat but you could also sail too.
Consider taking a lazy trip down a river in a canoe.Or rafting or kayaking local white water. Take a leisurely sail or rowboat trip on a local lake. Or throw your pole in the water for some fishing on this hot weekend.
You can do an Internet search for canoe liveries or rafting outfitters for locations in your area.