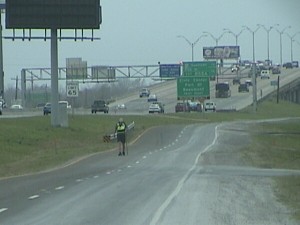 August 9, 2002 – Willcox, AZ – For most people it was just another day, for Andy Mandell – Mr. Diabetes® and Executive Director of the Defeat Diabetes Foundation, it was the achievement of a major milestone in his epic Wake Up and Walk® Tour a 10,000+ mile walk of the perimeter of the United States. He hit the 2,000-mile mark when he walked through Willcox, AZ this afternoon.
Diabetes affects over 20 million people and their families and half of them don't even know they have this insidious disease.
"We now have the ability to profile people at risk for getting the disease based on a variety of factors," says Mandell who was diagnosed with diabetes in 1985 at age 40.
The complications from diabetes can be severe. In fact, diabetes is the leading cause of adult blindness in the United States and can also lead to amputations, heart attacks, strokes, kidney disease and death.
Mandell, an insulin dependent diabetic, encourages people to take the free screening test offered at: www.defeatdiabetes.org and to seek medical attention if they prove to be at risk for getting the disease.
"Diabetes is an insidious disease slowly damaging your body while you are unaware," says Mandell. "I'm out here to, hopefully, convince people to not make the same mistakes I made by ignoring this disease," he added.
Mr. Diabetes® nearly died from complications related to the disease and has also had to undergo eye surgery to stave off diabetic related blindness.
Of his journey to date Mandell says, "I've literally met thousands of people, along the way spreading this message, and if I've saved one person from the agony I've suffered, it's been worth every step."
His journey is expected to last another 2 – 4 years and will conclude where it began in Florida.
Defeat Diabetes Foundation was established in 1990 and is a registered 501(c)(3) nonprofit organization. Defeat Diabetes Foundation is dedicated to early identification, information and education regarding the benefits of health and fitness in the treatment of diabetes. The focus is on the much-neglected areas of fitness, nutrition and self-management of the disease in conjunction with appropriate medical monitoring. The Defeat Diabetes Foundation supports public information programs through direct mail, the website, a free screening test for schools program and The Mr. Diabetes® Wake Up and Walk® Tour.
For updates on his trip, free diabetes screening test and other information about diabetes visit the website at: www.defeatdiabetes.org