Incorporates Hollywood Walk of Fame into 10,000+ Mile Journey of US Perimeter
December 12, 2002, Hollywood, CA – You may not know it, but many of our most famous and revered entertainers have had diabetes. They include actors Spencer Tracy, Jackie Gleason, Elizabeth Taylor and Halle Berry and musicians such as Miles Davis, Elvis Presley and Waylon Jennings.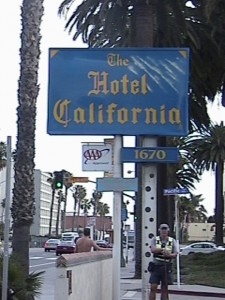 Today Andy Mandell – Mr. Diabetes® will incorporate the Hollywood Walk of Fame into his 10,000+ mile perimeter walk of the United States to raise awareness about diabetes, which affects some 22 million people nationwide.
"Part of the reason that I'm out here doing this walk is to show other diabetics that they are neither helpless nor hopeless. The people on this Walk of Fame who suffered from diabetes showed great courage and are a testament to what an individual can accomplish if they set their minds to it," stated Mandell.
Astonishingly, nearly one-half of all diabetics don't know they have this potentially debilitating disease and another 17+ million people are "pre-diabetics" who aren't aware that they are in danger of developing the disease.
The complications from diabetes can be severe. In fact, diabetes is the leading cause of adult blindness in the United States and can also lead to amputations, heart attacks, strokes, kidney disease and death. Diabetes was the cause of 200,000 deaths in the United States last year and included actress Nell Carter.
Mr. Diabetes® begins his walk at 10:00 am at the intersection of Hollywood Boulevard and Gower Street. He invites the public to come and join him as he pays tribute to the famous diabetics on the Hollywood Walk of Fame.
Defeat Diabetes Foundation was established in 1990 and is a registered 501(c)(3) nonprofit organization. Defeat Diabetes Foundation is dedicated to early identification, information and education regarding the benefits of health and fitness in the treatment of diabetes. The focus is on the much-neglected areas of fitness, nutrition and self-management of the disease in conjunction with appropriate medical monitoring. Defeat Diabetes Foundation supports public information programs through direct mail, the website, free screening tests for schools program and The Mr. Diabetes® Wake Up and Walk® Tour.
For information about the Defeat Diabetes Foundation, of which Mandell is Executive Director, visit: www.defeatdiabetes.org