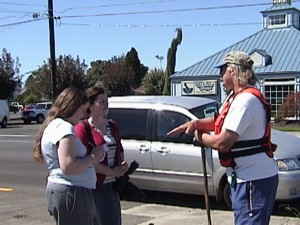 Tampa, FL – For the past eight years Andy Mandell – Mr. Diabetes®, Executive Director of Defeat Diabetes Foundation, has been a man with one mission: to walk the 10,000 mile perimeter of the United States raising awareness about the dangers of diabetes, a disease that nearly took his life. On December 4th he reached that milestone in Tampa.
With less than 30 miles until the finish in Madeira Beach, FL on December 21, 2008 he's beginning to have a bit of time to reflect on this epic journey. "It's been quite an adventure. The real eye opener on this trip, for me, has been the number of people who have been left behind with no access to diabetes prevention and treatment resources. That's a huge problem, since the incidence of diabetes in the U.S. has risen to 24 million, with an additional 57 million people at risk for developing the disease." said Mandell.
"The solutions are out there to prevent diabetes, obesity and a host of other chronic conditions. It's clear that changes have to be implemented at a community level to be truly effective. We can, and must, go further," continued Mandell.
Programs that focus on diabetes, nutrition and obesity are important. Providing access to healthy food through farmer's markets, community and school gardens, farm –to-school programs and food cooperatives are just a few of the components to reducing the rates of diabetes. Just as critical is creating a local environment that is conducive to healthier living by developing recreational opportunities, such as bike paths, green spaces and trails. Intervention in these areas could reap massive rewards and returns on investment as high as 5:1 in just 5 years. Prevention efforts like these could be crucial to avoid bankrupting the health care system in the U.S. with the long term costs of diabetes.
"There is still plenty of work to do on the issue of diabetes and we're going to continue to focus our prevention efforts on "at- risk" communities, youth and veterans groups, and bring what we've learned on the road to local communities through a series of exciting innovative programs," said Mandell.
"But first, I've got 30 miles left to complete THE WALK™, a final celebration in Madeira Beach and, maybe, a nap," he concluded. For details on Mr. Diabetes® visit www.DefeatDiabetes.org.