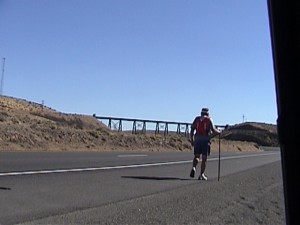 February 19, 2003, Aromas, CA – Stepping into Aromas, California Andy Mandell – Mr. Diabetes® and Executive Director of the Defeat Diabetes Foundation, completed mile 3,000 of his 10,000+ mile Wake Up and Walk® Tour of the perimeter of the United States to raise awareness about the disease that nearly took his life 5 years ago.
"22 million people are diabetics and half of them don't know it. I'm also sad to report that since I began this walk 13 months ago these numbers have increased by two million," says Mandell.
"Diabetes is responsible for 200,000 deaths each year in the United States alone, and what is even more incomprehensible is that 75% of the time Type 2 diabetes can be entirely prevented. With attention to diet, fitness and proper medical monitoring, many people at risk for developing diabetes could avoid the disease and its insidious complications," added Mandell
Recent reports from the Center for Disease Control indicate that the annual cost of diabetes, climbed from $98 billion in 1997 to $132 billion in 2002. Further, the direct medical costs of diabetes more than doubled from $44 billion in 1997 to $91.8 billion in 2002. Indirect costs included lost workdays, restricted activity days; death and permanent disabilities and totaled $39.8 billion.
The nation spends $13,243 annually on each diabetic patient, compared to $2560 per person for people who do not have diabetes.
If you have a diabetic in the family, you are at an even greater risk for developing this disease for which there is no cure.
Defeat Diabetes Foundation was established in 1990 and is a registered 501(c)(3) nonprofit organization. Defeat Diabetes Foundation is dedicated to early identification, information and education regarding the benefits of health and fitness in the treatment of diabetes. The focus is on the much-neglected areas of fitness, nutrition and self-management of the disease in conjunction with appropriate medical monitoring. Defeat Diabetes Foundation supports public information programs through direct mail, the website, free screening tests for schools program and The Mr. Diabetes? Wake Up and Walk® Tour.
For information on diabetes, to take the free screening test or obtain additional information visit: www.defeatdiabetes.org