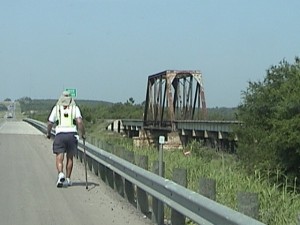 May 1, 2006 – Utica, NY – Today, near the intersection of Route 5 and 12 in New Hartford, NY (near Utica), Andy Mandell – Mr. Diabetes®, Executive Director of Defeat Diabetes Foundation, completed mile 7,000 of the Wake Up and Walk Tour® his 10,000+ mile walk of the perimeter of the United States to raise awareness about the disease that nearly took his life.
"Although the scenery and, certainly, the faces have changed since THE WALK™ began over four years ago, in most respects it hasn't changed since day one. The physical side is the same – the number of miles per day, variable weather and road conditions and the occasional dog attack are certainly the same," mused Andy. "The other thing that hasn't changed is the message – Awareness + Action = Prevention®" he continued. "The key to breaking this disease cycle is awareness, prevention and, when it's too late for that then, early detection. All instances require lifestyle changes. That's what the Wake Up and Walk® Tour is all about and why I've been out here walking and talking with the average guy on the street," said Mandell.
"People are now taking THE WALK™, and me, more seriously because 7,000 miles is a pretty significant accomplishment and no one can take that away. We've stuck with it and an amazing team of people behind me have helped make it happen," he concluded.
"Before THE WALK™ began there wasn't nearly the focus and awareness about diabetes that exists today. I'd like to think that my efforts have had some impact on that. Clearly, THE WALK™ has captured the imagination of the public. Through our extensive public outreach we've already reached approximately 50 million Americans and expect to reach 100 million before the end. I have also personally talked with thousands of individuals who've shared their personal stories – many with tragic outcomes, but I've also provided a real human face that shows diabetics aren't helpless or hopeless.
The necessary lifestyle changes are easier to make than you think — start by cutting out fast food, snack foods and soda. Institute a family dinner hour and add 5 servings of fresh fruits and vegetables, as well as legumes and whole grains such as oatmeal, brown rice or barley to your diet each day.
It's also important to pursue a more active lifestyle — Mr. Diabetes® recommends walking. "Unless you are severely disabled, walking is something that everyone can do. Start out with a minimum of ten minutes a day and increase the time gradually. In a short time you'll find you look forward to it. Many families can incorporate a walk before dinner. It's a great way to catch up with each others' lives and get healthier at the same time," says Mandell. "These simple steps can potentially stave off the onset of the disease and will certainly help minimize any of the complications. Of course, before starting any physical fitness program you should always work with your medical team to determine your fitness level," Mandell concluded.
Mr. Diabetes® follows his own advice and walks 12 – 15 miles each day, checks his blood glucose as many as ten times per day, eats a well balanced diet with plenty of fresh fruits and vegetables, and sees a doctor regularly. In spite of that, he still suffers from some complications of the disease, including severe neuropathy (loss of feeling in the lower limbs), which requires him to use a walking pole for balance.
About the Wake Up and Walk® Tour
THE WALK™ is a 10,000+ mile journey of the perimeter of the United States and is now in its 5th year. Defeat Diabetes Foundation Executive Director, Andrew P. Mandell – Mr. Diabetes®, is the sole walker (guest slots are accepted). He's traveled through 20 states, crossed 70 major rivers, gone through 18 pairs of walking shoes, four Tour Managers, and made over 45,000 one-on-one contacts all to create awareness about an insidious epidemic: diabetes. The Mr. Diabetes® Wake Up and Walk® Tour will continue through New England to the east coast of Maine before heading down the eastern seaboard toward the finish line in Madeira Beach, Florida sometime in the latter part of 2007.
About Diabetes
Over 21 million people have the disease, and nearly one-half of all diabetics are undiagnosed. Another 41 million people are "pre-diabetics" who are unaware they are in danger of developing the disease. Diabetes comes with a host of severe complications, including adult blindness, amputations, heart attacks, strokes, kidney disease, Alzheimer's and a host of other equally devastating problems. Diabetes causes 215,000 deaths annually in the United States alone. More tragic, 75% of the time, Type 2 Diabetes is PREVENTABLE!
About Defeat Diabetes Foundation
Defeat Diabetes Foundation was established in 1990 and is a 501(c)(3) nonprofit organization. Its mission is to inform, educate and alert the general public, diabetics, pre-diabetics and elected officials about the disease, its prevention and the consequences of undiagnosed and/or poorly managed diabetes. The Foundation provides accurate, up-to-date and practical information on the treatment and self-management of the disease, recommends diabetic-friendly products and services on their website and beneficial information through a free monthly online newsletter. They support public information programs, including the KIDD Project which has provided 2.75 million Free Defeat Diabetes Screening Test brochures to 4600 schools in all 50 states, the DAN Project in memory of Dan Kerner which has produced a series of Public Service Announcements and, of course, The Mr. Diabetes® Wake Up and Walk® Tour. For information on diabetes, to take the free screening test or obtain additional information visit: www.DefeatDiabetes.org