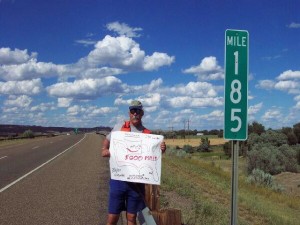 July 21, 2004, Somewhere in Montana – In between Terry and Glendive, Montana today, Andy Mandell – Mr. Diabetes®, Executive Director of Defeat Diabetes Foundation, completed mile 5,000 of his 10,000+ mile walk of the perimeter of the United States to raise awareness about the disease that nearly took his life.
Mandell began with a 450 mile "trial walk" from Madeira Beach, FL in December, 2000. He resumed his journey from Pensacola, FL in January, 2002 after surgery for diabetic retinopathy, a disease that threatened his vision. Since that time he has traveled through 12 states and completed a total of 5,000 miles to date. He's walked through wind, rain, blistering heat, sleet and snow. He's crossed fertile plains deserts, mountain passes and coastal highways to get to this point. Along the way he's talked one-on-one with approximately 25,000 people about diabetes.
"22 million people are diabetics and half of them don't know it. I'm also sad to report that since I began this walk in 2002 these numbers have continued to increase, and the number of pre-diabetics has nearly doubled to at least 41 million" says Mandell.
"Diabetes is responsible for over 200,000 deaths each year in the United States alone, and what is even more incomprehensible is that 75% of the time Type 2 diabetes can be entirely prevented. With attention to diet, fitness and proper medical monitoring, many people at risk for developing diabetes could avoid the disease and its insidious complications," added Mandell
"The Foundation's motto, Awareness + Action = Prevention® is a simple one. Know your risk for getting the disease by taking our Free Defeat Diabetes® Screening Test, which measures the currently known risk factors. If the test shows you are at risk it's important to make some lifestyle changes by eating a nutritious diet (start by cutting out the fast food), exercising regularly (that means more than just walking between your refrigerator and the couch) and seeing your doctor. These simple steps can potentially stave off the onset of the disease and will certainly help minimize any of the complications which include: heart attacks, strokes, Alzheimer's, blindness and the possibility of lower limb amputations" he concluded.
Mr. Diabetes® follows his own advice And walks 12 – 15 miles each day, checks his blood glucose as many as ten times per day, eats a well balanced diet with plenty of fresh fruits and vegetables, and sees a doctor regularly. In spite of that, he still suffers from some complications of the disease including severe neuropathy (loss of feeling in the lower limbs) which requires him to use a walking stick for balance. Most people do not have the time to do what Mr. Diabetes® does…, but it has been determined that 30 minutes to an hour per day of moderate exercise is beneficial.
Recent reports from the Center for Disease Control indicate that the annual cost of diabetes, climbed from $98 billion in 1997 to $132 billion in 2002. Further, the direct medical costs of diabetes more than doubled from $44 billion in 1997 to $91.8 billion in 2002. Indirect costs included lost workdays, restricted activity days; death and permanent disabilities and totaled $39.8 billion.
The nation spends $13,243 annually on each diabetic patient, compared to $2560 per person for people who do not have diabetes.
Defeat Diabetes Foundation was established in 1990 and is a registered 501(c)(3) nonprofit organization. The mission of Defeat Diabetes Foundation is to inform, educate and alert the general public, diabetics, pre-diabetics and elected officials about the disease, its prevention and the consequences of undiagnosed and/or poorly managed diabetes. The Foundation also provides accurate, up-to-date and practical information on the treatment and self-management of the disease. The Defeat Diabetes Foundation supports public information programs through direct mail, the website, a Schools program, a free monthly E-Lerts™ newsletter and The Mr. Diabetes® Wake Up and Walk® Tour.
The Mr. Diabetes® Wake Up and Walk® Tour will continue through the upper tier states to the east coast of Maine before heading south toward the finish line in Madeira Beach Florida sometime in 2008.
For information on diabetes, to take the free screening test or obtain additional information visit: www.defeatdiabetes.org