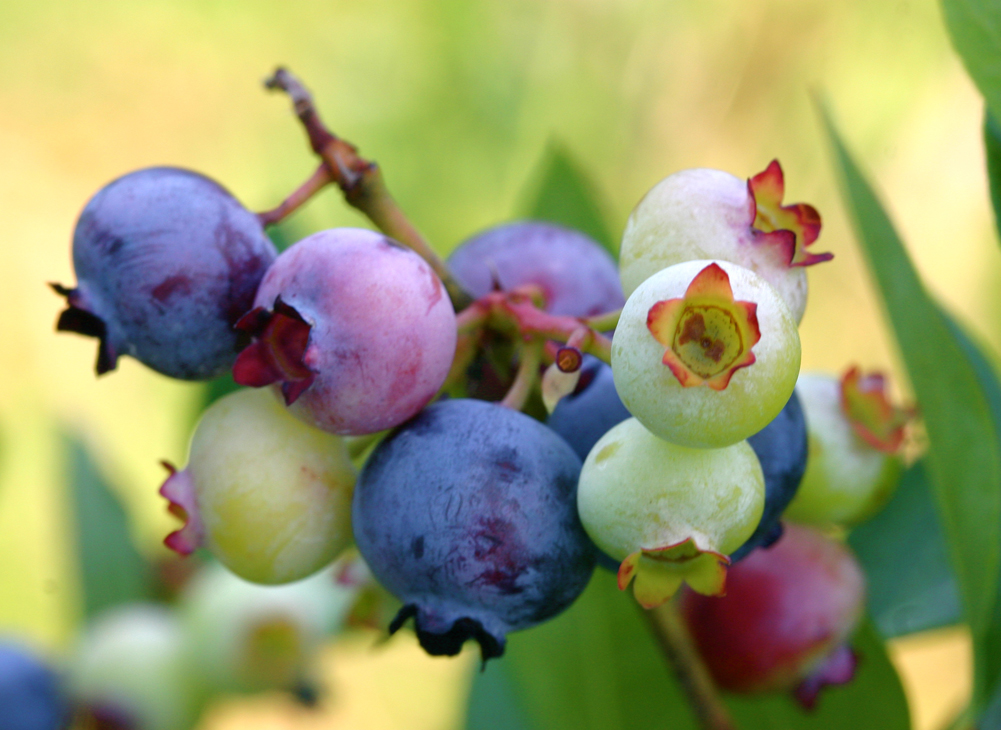 Blueberries are magnificent little berries native to North America. A member of the botanical genus Vaccinium, which also includes cranberries and bilberries, blueberries are both delicious and packed full of phytonutrients. They are known to be particularly healthful fruits for diabetics and those at high risk for developing type 2 diabetes.
More than 60 different species of blueberries are endemic to both North and South America, though most modern-day commercially cultivated varieties are derived from blueberries native to the modern-day Eastern and North-Central United States. "Highbush" blueberry species are typically the cultivated form, while "lowbush" are more representative of blueberries found in the wild.
Native Americans used to eat wild blueberries, and there is evidence that certain tribes also cultivated this delicious fruit. For Native Americans of the Northeastern United States, blueberries were of particular importance, both in diet and spiritual beliefs. They were eaten fresh off the branch, dried for storage, and for use as an ingredient in a range of traditional dishes.  Blueberries were actually part of the original "thanksgiving" ceremony, though in the long-run a lot more than just blueberries and turkeys were first received with thanks and then exploited from the Native Americans.
Nowadays, blueberries are cultivated around the world. From the United States (where Michigan, Maine, California, New Jersey and Georgia are some of the biggest producers) to Australia, Europe, Chile and Peru, blueberries can be enjoyed in a wide range of dishes, including fruit salads, pastries and smoothies. In the United States, May to October is the harvest for blueberries, with July declared as "blueberry month."
Wild blueberries are also very popular with North American Black and Grizzly bears, who often travel many miles in search of ripe berries. Given how strong, sexy and gastronomically selective bears are, their love of blueberries should set an example for us humans to consume more blueberries in their fresh, whole, and locally grown form!
In addition to the bears, scientists also have shown us that to get the most health benefits from blueberries, it is best to consume them in their raw form as a whole fruit. In such form, blueberries are packed full of micronutrients and phytonutrients such as vitamins C and K, anthocyanins, flavonolds and stilbenoids (such as resveratrol, which is also found in abundance in red wine). The resulting antioxidant and anti-inflammatory properties of blueberries has the effect of helping control blood pressure, prevent heart disease, limit neurodegeneration, and aid in preventing and self-managing diabetes.
A recent study has shown that consuming blueberries, as well as grapes and apples, in their whole fruit form, "is significantly associated with a lower risk of type 2 diabetes". On the other hand, the same study showed that drinking blueberry fruit juice may actually increase the risk of developing type 2 diabetes, due to its higher glycemic load. Another study showed the beneficial properties of blueberries in improving insulin resistance and glucose tolerance, with the potential to help prevent and manage type 2 diabetes.
Glycemic Index: 40-53 (depending on variety and ripeness) = Low
Resources and Further Reading
The preventative potential of consuming whole blueberries, apples and grapes for type 2 diabetes: 
http://www.bmj.com/content/347/bmj.f5001
A study on the beneficial effects of blueberries on insulin resistance and glucose tolerance: 
https://www.ncbi.nlm.nih.gov/pmc/articles/PMC5187542/
For more information on the blueberry and its cultivation: 
http://www.newworldencyclopedia.org/entry/Blueberry
For more information on the history of the blueberry and Native Americans: 
http://www.foodreference.com/html/a-blueberry-history.html
http://www.aihd.ku.edu/foods/blueberry.html
SMALL STEP, BIG IMPACT
Your support can make a difference in how the world responds to the global diabetes epidemic.
Knowledge is power, and action taken from that knowledge produces results. We invite you to explore our site and arm yourself with the important knowledge and support you need to prevent diabetes, manage the disease, and better understand the connection diabetes has to the health of our planet.