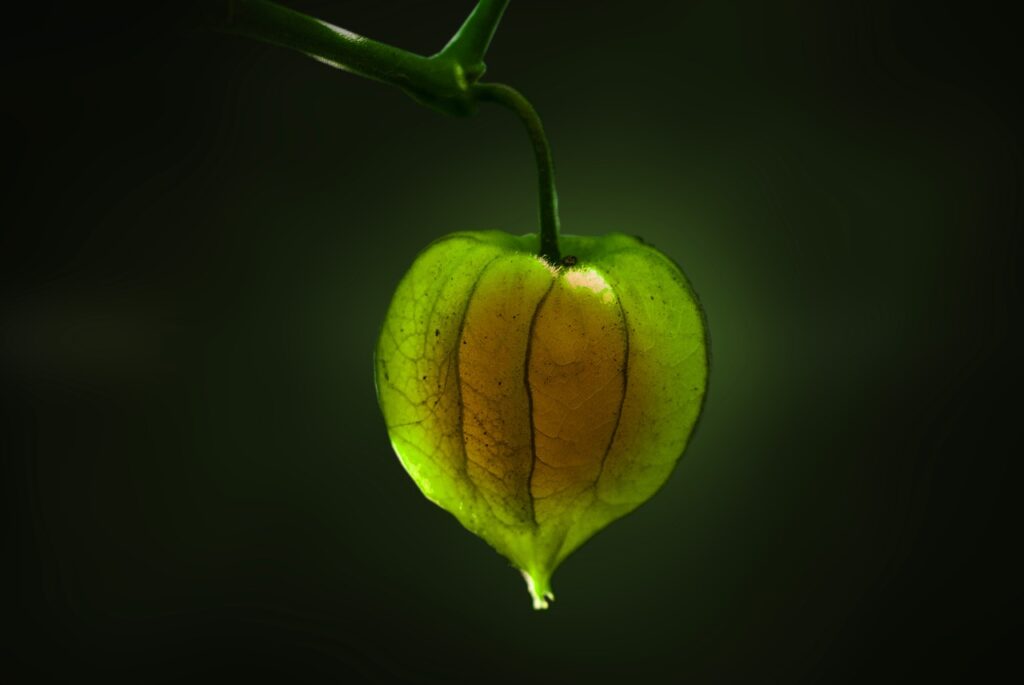 Physalis Peruviana, the botanical name for a delicious small yellow fruit from South America, has a wide range of colloquial names around the world, including goldenberry, cape gooseberry (South Africa), Peruvian ground cherry, uchuva (Colombia), rasbhari (India), amour en cage (France, they're such romantics…), Inca berry and poha (Hawaii), to name but a few. Since being found in the wild in their endemic habitats of the high altitude Andes and cloud forests of Chile, Peru, Ecuador, Colombia and Brazil, they have been exported and cultivated on relatively small scales around the world in a range of climates and altitudes.
Goldenberries have an attractive geometric outer shell that reveals a crunchy yellow/orange fruit with a strong resemblance to cherry-tomatoes and tomatillos, and in fact their closest commercial relatives are tomatoes, eggplants, and other "nightshade plants."
The taste of goldenberries is a combination of slight sweetness and tartness when ripe. They are used in a variety of culinary ways beyond eating the fresh whole fruit, from sauces and jams to ice cream and puddings. Eaten unripe, goldenberries can be toxic, and when ripe can also cause allergic reactions that nightshade plants like tomatoes cause. So it is necessary to be mindful of this reality when first introducing them into your diet.  
Goldenberries are solid sources of vitamin C, vitamin A, dietary fiber, and several minerals such as potassium and manganese. They contain valuable phytonutrients, especially the antioxidants known as carotenoids and polyphenols. Goldenberries are also low in calories and glycemic load, making them great fruits for weight loss and obesity prevention, as well as blood-sugar management for diabetics.
Stated health benefits of goldenberries are mostly derived from their high antioxidant properties, and include weight loss and obesity prevention, enhancing heart, liver and kidney health, boosting the immune system, and aiding in the prevention and management of diabetes.
It is rare to find a large commercial plantation of goldenberries, as their cultivation is considered labor intensive and susceptible to changes in weather patterns. If you are fortunate enough to find goldenberries in the United States, which have been cultivated on relatively small scales in California, as well as in Hawaii, they are likely to have come from a small and diverse farm with limited use of chemical fertilizers and pesticides.
Glycemic Index of goldenberry: 35 = Low
Resources and Further Reading
Some background and potential health benefits of goldenberries: 
https://www.organicfacts.net/health-benefits/fruit/golden-berries.html#Diabetes_Control
Information on growing and cultivar varieties of goldenberries: 
https://www.crfg.org/pubs/ff/cape-gooseberry.html
A breakdown of the aroma and flavor profiles of goldenberries: 
https://www.ncbi.nlm.nih.gov/pmc/articles/PMC3972826/
A study of the possible medicinal properties and phytochemicals in goldenberry leaves and the natural treatment of several diseases, such as diabetes: 
http://idosi.org/ejas/5(1)13/1.pdf
SMALL STEP, BIG IMPACT
Your donation will help save lives. Give today to help us defeat type 2 diabetes across the globe. 


Knowledge is power, and action taken from that knowledge produces results. We invite you to explore our site and arm yourself with the important knowledge and support you need to prevent diabetes, manage the disease, and better understand the connection diabetes has to the health of our planet.