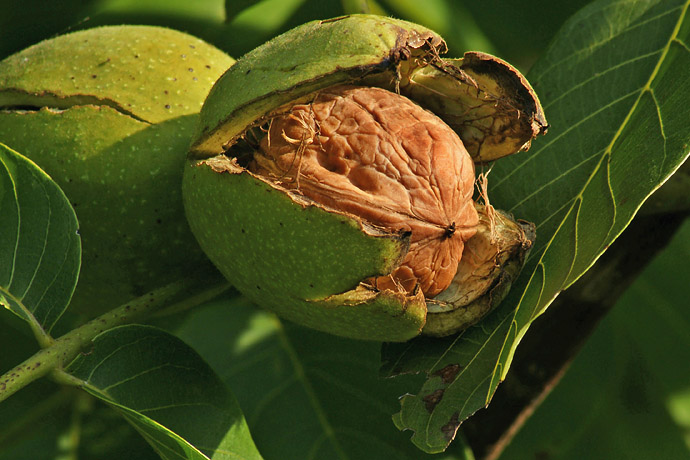 Wild walnuts have been eaten by humans since prehistoric times, and cultivated for at least 9,000 years! They are the earliest known tree food to be harvested by our species, and were (and continue to be) an important source of nutrition, especially protein and healthful fat, for early civilizations.
All nuts of trees from the botanical genus Juglans are classified as walnuts, with Juglans regia, commonly known as the Persian or English walnut, being the most widely consumed around the world. This awesome name, Juglans regia, was given by the Romans, who adored walnuts, and it means "Jupiter's royal acorn."  Black walnuts (Juglans nigra) and "butternuts"(Juglans cinerea) also have a niche in the growing world market for walnuts.
Walnut trees are endemic to different parts of Asia, where they survived the last glaciation period (which lasted until 11,700 years ago). From their native origins, walnuts were dispersed by nomadic tribes, and eventually by traders along the silk road to the Middle East (where they got their common name, Persian walnut). Walnuts have been important components of European cultures and cuisine for thousands of years, but their exact arrival to Europe from Asia and the Middle East is still up for debate.
California has become a major cultivator of walnuts (and almonds) in the modern age. Franciscan friars in the 17th century began cultivating walnuts in California, and now the United States is the world's second largest producer of walnuts (behind China), with California accounting for nearly 90% of the total US output. Iran (ancient Persia) and Turkey are the third and fourth largest walnut producers, followed by Mexico, Ukraine and Romania.
It cannot be overstated just how nutritionally powerful walnuts are, and how important they have been to the evolution and survival of human cultures in several parts of the world. While not typically described as such, they certainly deserve the moniker of "superfood."
We will try here to name but a few of their healthful constituent parts. Walnuts are extremely good natural sources of the three main macronutrients; proteins, fats and carbohydrates. As for micronutrients, walnuts are abundant sources of minerals like magnesium, phosphorus, potassium, iron and zinc, the vitamins C, E, B1 and B6, and phytonutrients, including phenolic compounds such as several flavonoids (common and uncommon forms), which are mostly concentrated in the skins of shelled walnuts.
Consuming walnuts, not surprisingly, has been connected to several preventative and restorative health benefits, since they are so high in essential vitamins and minerals, and fundamental compounds for the human body to function like fats and proteins. Walnuts exhibit strong antioxidant and anti-inflammatory properties, which aid in the prevention and management of several chronic conditions, from cancer to arthritis and diabetes. The most studied and accepted benefit of consuming walnuts and other tree nuts, however, is enhancing heart health, though they are also known to help protect against, treat or potentially reverse related conditions such as metabolic syndrome and type 2 diabetes. One study suggested that walnuts can help prevent cardiovascular disease and heart attacks in type 2 diabetic patients.
Walnut oil, which is another commercially important product in addition to the nut, has been suggested as a healthful alternative to certain highly processed vegetable oils, and butter, which is high in saturated fat. A recent study showed that using walnut oil helped to lower blood glucose levels in type 2 diabetic patients.
Whether as a healthful whole food snack, an ingredient in a world of dishes, breads and pastries, as a cooking oil or as a fundamental food to stay strong and alert (as was the case for our ancestors), walnuts are a versatile and nutritious nut that should be a part of any balanced diet.
Glycemic index of walnuts: 20 = Low
Resources and Further Reading
A study about the origins of walnut cultivation in Europe: https://www.ncbi.nlm.nih.gov/pmc/articles/PMC5336217/
For more information on the history of the walnut: https://walnuts.org/about-walnuts/history/
A good source for information on the health benefits and nutritional profile of walnuts: 
http://www.whfoods.com/genpage.php?tname=foodspice&dbid=99
A study on walnuts and how they may help prevent heart attacks in type 2 diabetics: 
https://www.ncbi.nlm.nih.gov/pmc/articles/PMC2809254/
A study on the positive impact of walnut oil on blood sugar levels in type 2 diabetics: 
https://www.ncbi.nlm.nih.gov/pmc/articles/PMC5219895/
A study about nuts, including and especially walnuts, and their benefits for the heart: 
https://www.cambridge.org/core/services/aop-cambridge-core/content/view/S0007114506003606
SMALL STEP, BIG IMPACT
Your support can make a difference in how the world responds to the global diabetes epidemic.
Knowledge is power, and action taken from that knowledge produces results. We invite you to explore our site and arm yourself with the important knowledge and support you need to prevent diabetes, manage the disease, and better understand the connection diabetes has to the health of our planet.