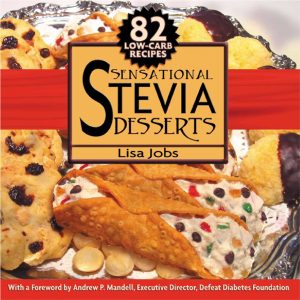 Limited Time Offer!
Make a gift of $25 in support of Defeat Diabetes Foundation's global efforts and receive Sensational Stevia Desserts by Lisa Jobs. Donate Now
Get Sensational Stevia Desserts paperback for a gift of $25* to Defeat Diabetes Foundation and it will be shipped for free only in the United States. This is a Limited Time Offer.
*Enter STEVIA in Gift Note to receive your Sensational Stevia Desserts paperback.
Donate Now
Sensational Stevia Desserts gives you over 80 ways to enjoy Healthy, Low-Carb, Crispy, Crunchy, Chewy, Flaky, Mouth-Watering Desserts… Without Adding Sugar!
Sensational Stevia Desserts is overflowing with the widest selection of fantastic low-carb desserts to help you take the sugar and artificial sweeteners out of dessert preparation forever. Sensational Stevia Desserts gives you over 80 unique recipes and variations for one of the most popular uses for stevia – desserts. Using stevia* – a natural alternative to sugar,aspartame®, saccharin® and sucralose® – makes desserts delicious, low-carb and lower in calories, without sacrificing flavor.
Some of the mouth-watering desserts include:
Wonderful White Chocolate Chip-Cherry Cookies
All-American Apple Crumb Pie
Chocolate Brownies
Pumpkin Custard
Italian Cannoli
Frosty Espresso Frappe
Strawberry-Banana Shake
and many, many more
*Stevia is a natural alternative to sugar, aspartame, saccharin and sucralose®. It is derived from the herbal plant sevia rebaudiana and is grown in many parts of the world, especially China, Korea, Paraguay and Brazil. It has no known side effects and is currently approved by the FDA as a dietary supplement. The Japanese have used stevia since the 1970s as a sweetener in many food applications including diet soda and soy sauce.