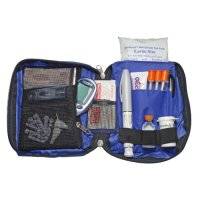 Diabetes is an expensive disease even when you are lucky enough to have good health insurance! One of the single largest requests we receive each year is for assistance obtaining diabetes medical supplies.
i have been diagnosed with type 2 diabetes. i am a veteran and the VA will give me a meter and 30 test strips. is there anyplace that helps with the cost of these strips as i have been unemployed now for almost a year.

Mike D, Arizona
Regular testing is very important for the successful management of diabetes. Defeat Diabetes Foundation is pleased to offer medical supplies to those who request them. If you are having difficulties affording supplies you may request: glucometer, lancing device, lancets and test strips (100 max.) Be sure to double check the brand you use.
Our supplies change regularly so it is possible we may be out of the brand you regularly use. Please note we also only ship supplies to US postal mailing locations.
Here's a list of our available inventory.
Pay Less for Your Medications
My Advocate for Health can save you money and time on your medications. The high price of prescription medications for the treatment of diabetes and its complications can be cost prohibitive, even with insurance. And, you don't have to have diabetes to benefit from this service.
Defeat Diabetes Foundation is on a mission to inform, educate and prevent Type 2 diabetes and to improve the lives of ALL people with diabetes. That's why we are offering My Advocate for Health. (sponsorship)
For more information on this cost saving service please visit https://www.myadvocateforhealth.com/ddf
You can help by donating supplies too!
The need is great – so we are also looking for people to donate unexpired test strips and other testing supplies. We do not accept syringes. If you have testing supplies including lancets and test strips you no longer need please send them to:
Defeat Diabetes Foundation
150 153rd Ave., Suite 300
Madeira Beach, FL 33708
Outside the United States
Insulin for Life USA
PO Box 2840
Oklahoma City, OK, 73101
http://www.insulinforlifeusa.org
Insulin, glucose test strips, ketone strips, unused glucometers. All supplies must be unopened and unused with at least 5 months before their expiration date.
You may also check with your local health department or free clinic.