Who is Mr. Diabetes® and Why Is He Important?
Andrew P. Mandell, Mr. Diabetes®, is the Executive Director of Defeat Diabetes Foundation. He's a senior citizen, an insulin dependent type 2 diabetic and was the sole walker for The Mr. Diabetes® Wake Up and Walk® Tour, a 10,000+ mile walk of the U.S. perimeter to raise awareness about diabetes.
"Even though I was physically active and watched my eating habits, I was the perfect profile for type 2 diabetes because of risk factors and didn't even know it" claimed Mandell. The progression of his disease was a textbook case. Had Andy known at the onset of his illness what he knows today about diabetes, his outcome would have been very different. He certainly would have avoided some of the complications that have arisen for him as a result of his disease.
Andy was diagnosed in 1985 at the age of 40. His treatment began with diet control and progressed to oral medication. In 1996 Andy's own diabetes went out of control. While training for a cross-state series of eight marathons (one per day for eight days) in Florida, he began to lose weight. At first he attributed the weight loss to his increased training schedule and wasn't too concerned. But then it continued and became uncontrolled, ultimately losing 75 – 80 pounds. He grew weaker, became sicker, and finally ended up in bed for two years in excruciating pain and near death.
As his disease was spiraling out of control and the end looked near, Andy realized his only chance to survive was to be more aware of the intricacies of the disease; to be responsible for his own health by taking ACTION, which could lead to the prevention of serious complications of the disease. It was then that Andy took responsibility for his condition and became an advocate for his own health. Andy, ultimately, was able to gain control of his diabetes and now requires the daily use insulin therapy to maintain his blood glucose levels in a safe and acceptable range.
In spite of the fact that the diabetic community in this country is made up of over 29 million people, there is no ONE source to turn to for accurate, valid and easy to understand information. The diabetic community is a fragmented one made up of the diabetic, his doctor and concerned family members. There should be strength in numbers, especially when the number is 29 million, but there is no such strength or focus in the diabetic community.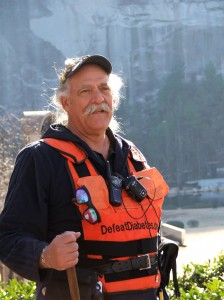 Mr. Diabetes® hopes to change all that by giving diabetes a face, body and voice. He is not a book or a statistic on someone's graph, but a real person with a real disease and an important message. By adopting the name Mr. Diabetes® he hopes to create an identifiable name and, hopefully, one that diabetics will come to trust.
He is out there as an advocate for diabetics in the country, gathering valuable information, testing products, and trying nutritional and fitness approaches. He is reporting on his successes and failures so other diabetics can learn from his trials and errors, and hopefully lead a more productive and complication free life.
Mr. Diabetes'® goal is to share information, appropriate and valuable products and services for the diabetic, help advocate for the community to the news media, government agencies and the medical establishment.